Even with new lead, 'Fantastic Beasts: Secrets of Dumbledore' worth the watch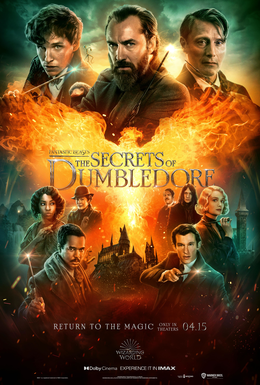 "Fantastic Beasts: Secrets of Dumbledore" is the third movie of the "Fantastic Beasts" series. "Secrets of Dumbledore" was engaging and magical as it continued to reveal the plot of the whole series.
The film went into the political side of Grindelwald's plan to take over the wizarding world, and how Albus Dumbledore's past related to who Credence Barebone really is. Newt Scammander, played by Eddie Redmayne, alongside Jacob Kowalski, played by Dan Fogler, enlist the help of friends to try and take down Grindelwald.
In the first two movies of the series, Johnny Depp played the antagonist, Grindelwald. After losing his libel case relating to abuse allegations, Depp was asked to resign from his role.
As a second option for Grindelwald, Mads Mikkelsen was asked to take on the role instead. Fans were nervous about Mikkelsen being able to reach the standard Depp had set so high.
While Mikkelsen's Grindelwald was extremely different from the Grindelwald Depp had set up for the series, it wasn't as bad as fans expected. The acting was spot on of how Grindelwald should be, and Mikkelsen did a great job making the antagonist interesting, mysterious and dark.
This being said, I don't believe casting Mikkelsen was the best idea. While Mikkelsen was a great Grindelwald and added a fresh new side of the character, it was such a quick turnaround, making it hard to adjust. The whole time I watched the film, all I could think about was how different the actors are from each other, which took away from the other incredible aspects of the movie.
Some insanely well done aspects of "Secrets of Dumbledore" included the character development of Newt Scammander, the detailed visual arts of all the magic and how deep and twisted the plot continues to grow.
Overall, the movie was a great watch and worth seeing. I do not recommend watching it if you have not seen the first two movies "Fantastic Beasts and Where to Find Them," and "Fantastic Beasts: Crimes of Grindelwald." The series is set up similar to the Harry Potter series where the movies build off of each other and aren't understandable or enjoyable without seeing the previous ones.