Spring game showcases talent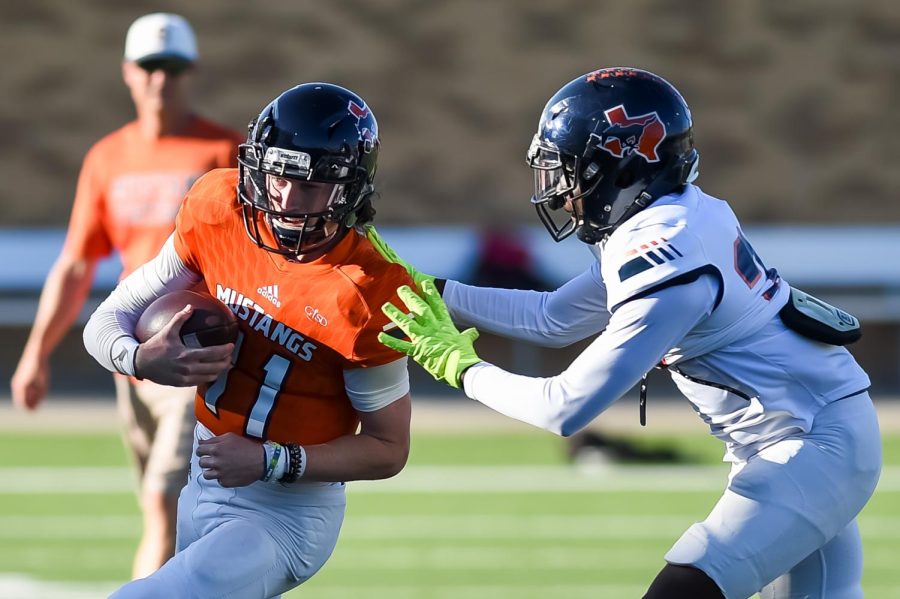 After a long offseason, the Sachse Mustangs have officially started the 2022 spring football season.
There is a lot of young talent and potential on this team. Incoming senior Grayson King will lead the team at quarterback. 
"I think I'm ready," King said. "We have big shoes to fill this upcoming season, and we have been working really hard."
Only four starters have returned from the 2021 offense, three of which are wide receivers. Coach AJ Roland will have to bring in four new offensive lineman and possibly a new scheme.
"We still have all summer to work some things out, but my guys will be the best come the fall," Roland said.
Three starters from the 2021 defense are returning. Linebacker junior Christopher Talley will be one of the captains for the defense in the 2022 season.
"We have been preparing all offseason, and it's time to show everyone what we are about," Talley said. 
Throughout the four weeks of practice, the defense has made the most improvements. They are playing together, fast and disciplined. 
During the spring game, the offense really struggled in the passing game, but mostly because the defensive backs stuck to the receivers like glue.
The running game for the offense looked really good with juniors RC Reeves and Khalyse Harris. These two guys will tear up defenses this year and hopefully lead Sachse to another playoff run.
Sachse still has two and a half months to prepare for their 2022 campaign. Summer workouts and practices will be key for good preparation for this season.
They start the season on August 25 against Coppell. Then the week after, they take on the state ranked  Prosper Eagles.
The two challenging pre-district games should prepare the Mustangs for a successful season.