Lady Mustangs begin softball season
The Sachse varsity softball team has started the season strong with 10 wins so far, as they head to a tournament Sat., March 5.
"I really like the environment on the team, and how everyone can work together," sophomore and varsity player Rylie Clem said. "I just hate when the team is in a slump, and we aren't playing well during our games–which hasn't happened recently."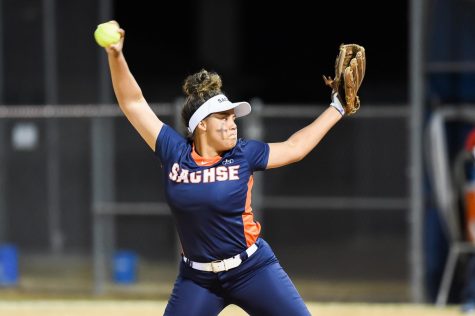 Varsity's strongest game so far was at a tournament, playing against Crandall High School with a score of 19-3.
During that tournament, senior Kayla Olthouse had 12 hits, two doubles, one triple, and two home runs, while winning two games pitching. 
Nevaeh Watkins had eight hits, one double, one home run, and five stolen bases.
During their game against Crandall, junior Madison Trusty hit the ball into center field during the top of the first inning resulting in three of the 19 runs.
"I'm actually trying to improve my hitting this year," Trusty said.  "It's one of the things I need to improve on along with my time management with softball taking so much of my time."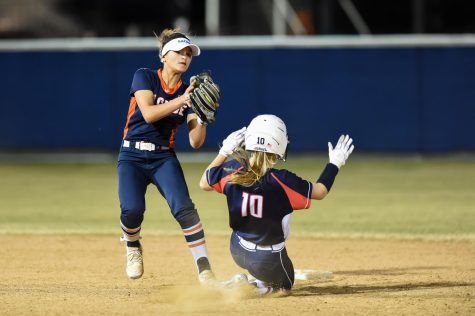 On March 1, varsity played Garland High School, Watkins had a single, double, and a home run. Olthouse had a single and double and was the winning pitcher.
The next varsity game is against Temple High School on March 3.
The JV team has not had the opportunity to play as many games as varsity, and are currently 1-4 in pre-district play.  Their next game is March 7 against Wylie High School.
"We're still learning how to play with the freshmen, and having to work with them, and teaching them is definitely a learning process," junior and JV player Zoe Rodriguez said.
The junior varsity team has won one game this season 4-1 against the Frisco Liberty Redhawks.
During the second inning of that game, freshman Logan Schultz walked to first then proceeded to steal second and third on two different wild pitches. Schultz stole a run after Rodriguez walked, getting their first run that inning before striking out.
"I think Wylie is gonna' be one of our hardest games in district this year," freshman Riley Duggan said. "They have a really good team with some really skilled players. I do appreciate how close our team is, so we can work together during those tough games."