Art teachers shine at GISD faculty art show
Recently those who teach art were able to display their own works at the Garland ISD annual faculty art show.
All three art teachers at SHS contributed their own unique art pieces for the show, each with their own inspiration like their own lives, famous artists, their heritage and even mass consumerism.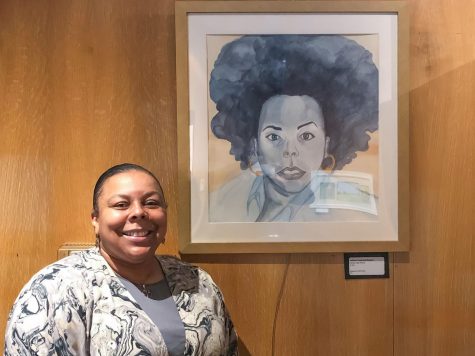 Art teacher Jobina Lugrand submitted nine works of art, ranging from clay sculptures, watercolor paintings, and printmaking pieces.
"Each of them has a different inspiration," Lugrand said. "For instance, 'Miss Blue' I was kind of stressed out, so I chose the color blue monochromatic just because that's how I was feeling."
"Miss Blue" is a self portrait in watercolor and was only on display and not for sale as Lugrand had given it as a gift to her husband.
"Visions" is a drawing with colored pencil and pastels. It tells the story of a woman of African heritage who has a vision of a man in front of her holding a spear.
"'Visions' is really important to me because it was the first time I realized that I could be a professional artist if I wanted to," she said. "Some of these pieces have a significant meaning to me, so I wasn't interested in selling them at the time."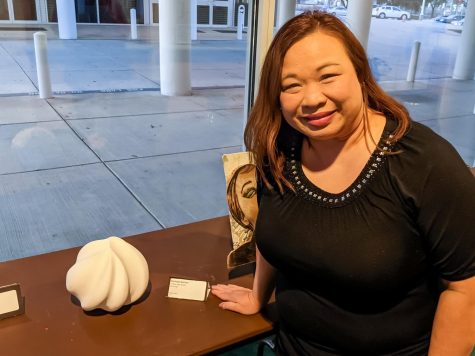 Rachada Iturrino, submitted a sculpture and an acrylic painting. This is Iturrino's first year teaching at SHS.
The sculpture titled "Eternal Egg" is considered an abstract project for Iturrino. The end result is a spiral looking dome that resembles a dollop of frosting.
"I think it just kind of came to be on its own as I was sculpting," Iturrino said. "It just morphed into the end result."
For the acrylic painting titled "Primary Iris," Iturrino said she was inspired by famous artist Georgia O'Keeffe.
"I used the same style and technique," she said. "I made a similar painting that she had inspired, but I just used primary colors instead."
Neither pieces of art were up for sale as they are original pieces, and Iturrino chose to keep them.
Christopher Welch submitted a total of 10 pieces in the art show that included two medium format paintings and a series of eight analog photographs. The paintings are titled "Junk Culture" and "Independent."
Welch said "'Junk Culture'" is a statement on how society has developed sub-cultures for what is considered junk, but is instead given a new purpose or is assigned a new value.
"So the inspiration behind 'Junk Culture' was a response to our mass consumer culture and the clutter that it creates," Welch said. "A lot of marketing sort of compels us to buy a lot of things that we don't need but we think we might need. Those items have a life span, and once that lifespan is over, they create this clutter of stuff that takes on a second life."
The painting seems to embody the phrase, "one man's trash is another man's treasure."
"There's a whole subculture of people who collect things like phones from the 70s, comic books and things like that," he said. "That was kind of a response to just this idea that our mass consumer society just creates a mountain of junk, and people still find a use for it."
Along with the paintings Welch was the only one to submit a photography series.  One titled "3 a.m." in which he photographed various convenience stores at 3 a.m.  The other photo series is a black and white set completed within an afternoon.
"'3 a.m.,' the photography series, was inspired by a convenience store I drive by in the mornings before work, and it's completely lit up like it's open with all these lights on," Welch said. "I see it everyday, and I wanted to photograph it and decided to drive around and find other places like it to photograph."
The faculty art show is a way for the Garland Education Foundation to raise money for the senior scholarship. Seniors who submit artwork for the senior show can apply for the scholarship. If they receive the scholarship they are awarded a $250 scholarship to go towards whatever school they choose.