'No Time to Die' lives up to expectations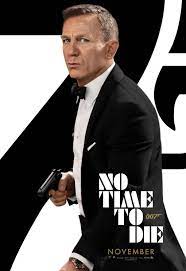 Released on October 8, "No Time to Die" is the final Bond film in the franchise for Daniel Craig, who almost did not return as the lead character after negative comments on his role in "Spectre."
Directed by Cary Joji Fukunaga, "No Time to Die" has quickly become a hit, taking $121 million dollars at the international box office.
A retired Bond is enjoying life in Jamaica when his peace is disrupted when an old friend, CIA agent Felix Leiter asks Bond for help. Leiter needs help rescuing a kidnapped scientist. The rescue turns out to be far more dangerous than expected. Bond is put on the trail of finding a dangerous new villain who has obtained a dangerous new weapon.
The film is an action-packed PG-13 movie intended for adults who want to reminisce about older James Bond films, but it is still interesting for younger audiences. 
The soundtrack by Hans Zimmer is a little lacking in the Bond theme but is still entertaining. The opening credits feature the new bond song, performed by Billie Eilish. The music brings something new and fresh to the film while keeping the original themes from previous Bond movies.
Rotten Tomatoes reviews of the movie are mostly positive saying the movie has well-written dialogue and a good storyline. Numerous reviewers claim that it is the best James Bond Movie they have seen.
Personally, I adore the franchise. I have an emotional attachment to it because I used to watch the older movies with my parents, and this makes me want to go back and watch all of them again. 
I can't say it's the best James Bond film, but it is a beautiful end to a beautiful franchise. I rate this movie a 7/10 because some of the flow seemed a little generic with the good guy, bad guy, and love interest. However, the dialogue was well written and witty, matching Bond's personality from past movies perfectly.