Sophomore golfer sinks once in a lifetime shot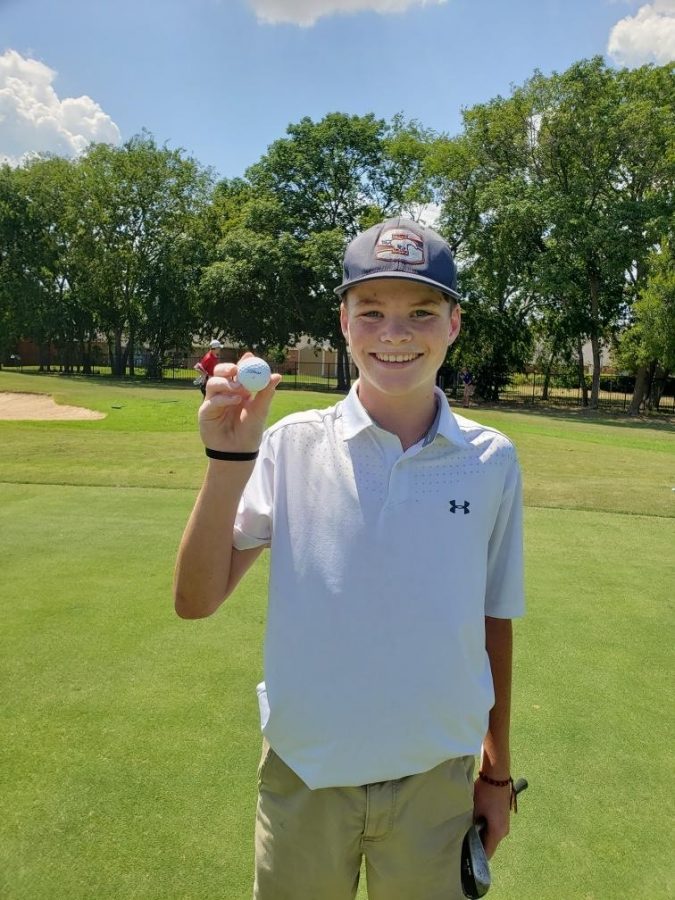 Imagine hitting the shot of a lifetime when you're still just a sophomore.  That's what happened to golfer Camden Rafferty. Rafferty hit the school's first hole-in-one during golf practice, leaving his coach and the entire team shocked and surprised. 
A hole-in-one occurs when a ball hit from a tee to start a hole finishes in the cup. Rafferty, who has been playing golf for the last 10 years, made his hole-in-one at the Firewheel Golf Course.
"It's really rare," Rafferty said. "The chances of it happening are 1 in 25,000. Luck was on my side."
Rafferty said he and his fellow teammates could not believe the ball went in the hole.
"They were really shocked about it because that was the first one they have all seen, too," Rafferty said. "They went crazy and high fived me and stuff."
At first, Rafferty was unsure if he hit a hole-in-one until his coach confirmed it.
"I didn't think I hit it because you couldn't see the ball because it was tucked behind the hill,"  he said. "My coach went near the hole and said 'it's in there,' so I called my mom, and she went crazy."
Rafferty said he plans to continue pursuing his passion for golf.
"I worked hard, and it finally paid off somehow," Rafferty said. "Hopefully I will get a scholarship for this."
About the Writer
First Name Unknown Veer, Staff Writer
Everybody follow their dreams. Don't be like everybody. Think outside of the box and FOLLOW MY INSTAGRAM instead @VEEERR32. Hey everyone, this is First...