Mustangs prepare for "Hammer" trophy bragging rights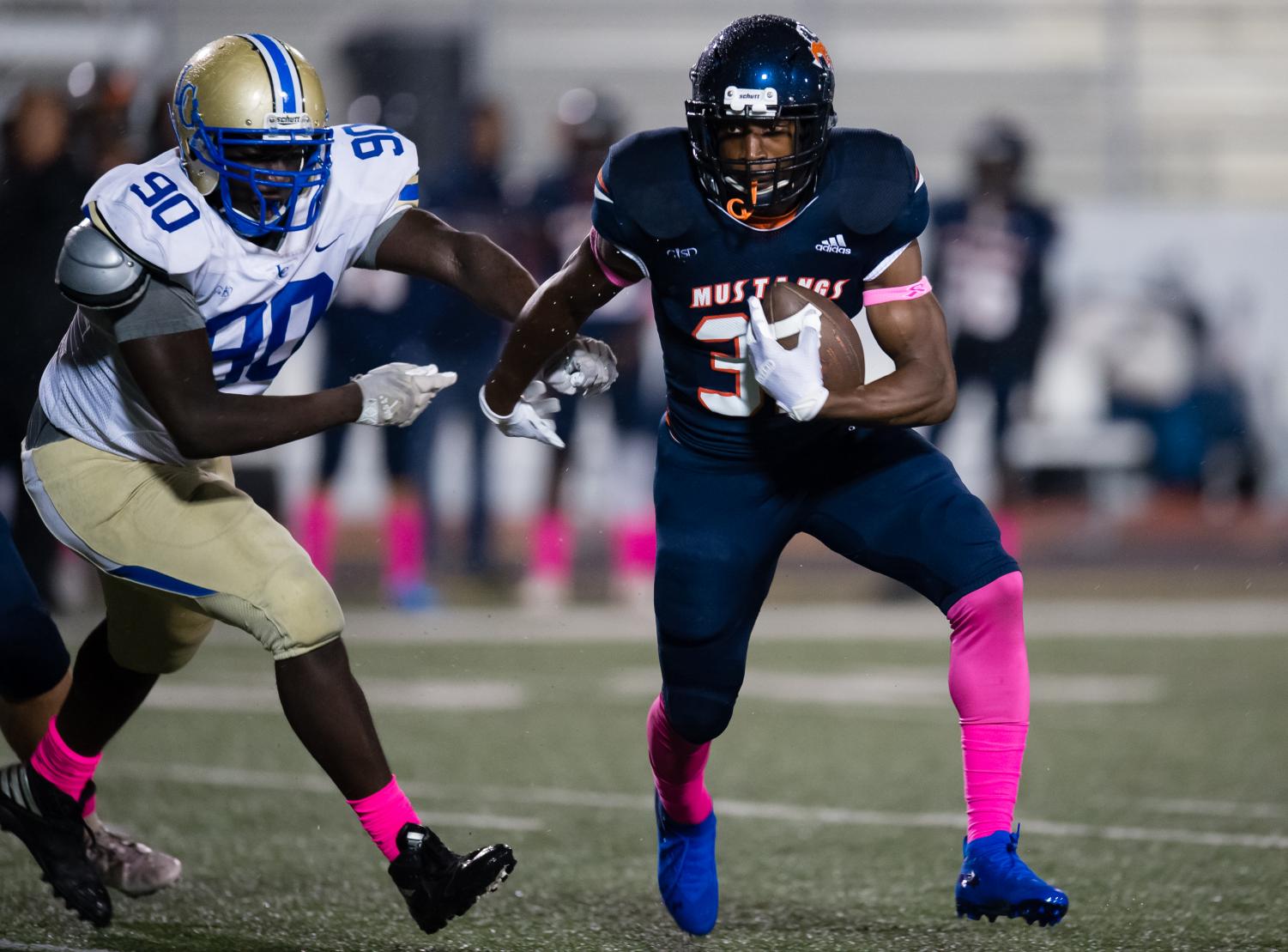 After securing a spot in the playoffs last week, the Mustangs continued their district domination with a 41-20 win over South Garland Thursday night.
Now the Mustangs look forward to possibly the biggest game of the year against rival Rowlett Eagles. As much as this game means to both sides in terms of bragging rights, it also has large implications on the district standings as the two teams are tied up at the top along with the Wylie Pirates.
"This is by far the biggest game of the year for us," Sophomore Quarterback Jordan Nabors said. "We definitely feel the pressure of this game cause its Rowlett and there would be a sense of shame around the school if we lose. Also if we win this game it could secure the district. So we are very excited and  we are ready for the fight and they better be too."
Despite the miserable weather conditions and empty stands Thursday, Oct. 24, they managed a 17-14 win over Lakeview Centennial.  The rainy forecast kept both schools' spirit organizations from attending the game, so only die-hard fans cheered on the damp teams.
"The conditions were tough to play in, so we knew they were gonna' try and run the ball in the rain," linebacker sophomore Justice Rider said. "We were able to stack the box and really neutralize their offense, and it was just enough to come out with the win."
On Oct. 18th, the Mustangs held their ground with a 24-21 win over North Garland where running back junior Shon Coleman continued his breakout year with 96 yards rushing and a touchdown. 
They faced the Garland Owls on Oct. 3, and Coleman again played lights out leading the Mustangs to a blowout 45-17 win with 243 yards rushing and a touchdown.
 Homecoming week gave the Mustangs a bit of a scare. They started sluggish and were down 28-21 to a mediocre at best Naaman Forest team.  The coaches made the necessary adjustments at halftime, and the defense did not give up another point in the second half of the game. But, the main reason the Mustangs got another key win was Coleman. He had 228 yards and three touchdowns in the homecoming win.
"We struggled to stop the run in the first half," Rider said, "but in the second half we tired them out and physically out-played them and shut them down. The offense took care of the rest."
The Mustangs suffered their first district loss in 3 years to the Wylie Pirates on Sept. 20. The varsity running game sputtered, and the Pirates forced multiple turnovers and scored late to secure the win.