Haunted house round 2
Theatre expands scary experience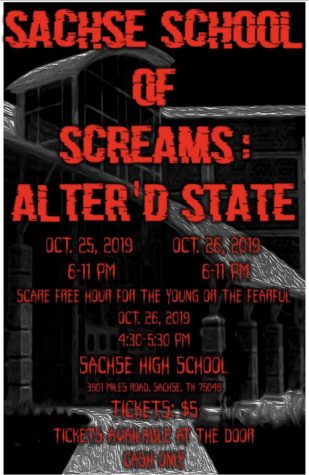 After last year's successful haunted house during Sachse Fall Fest, Sachse Mustang Theatre is back with its 2nd annual haunted house, Sachse School of Screams. 
This year the theme is Altered State, where nothing is as it seems and everything is the opposite of how it usually is. The haunted house will have two paths this year that customers can choose which one to go in.
"We wanted to make the haunted house bigger and having two different paths allows us to have more rooms," Theatre teacher Tim Doyle said. "A big haunted house allows us to not only have more scares, but for more (theatre) students to be able to participate because now there's more roles and responsibilities," We also recognized we had a new wing that opened up." 
The haunted house will have a couple of the more popular rooms from last year but will still provide customers with a fresh take on the room. Some of the returning rooms are the butcher shop, the doll room, and the hillbilly forest. New rooms include a nuclear fallout scene, an asylum, and a maze. 
"We wanted a theme that could play into different rooms but also cater to something that's scary for everyone," Doyle said.
Students have been working on the haunted house since late September with theatre teacher Joe Murdock and Doyle's theatrical design class designing the rooms and figuring out lighting, sound and sets. They were also tasked with figuring out the materials they would need and the bit that the performers do.
"I really liked how we got the opportunity to design the haunted house because it made me feel like I was getting experience for the real world," senior theatrical design student Collin Day said. "I was able to have creative freedom with the rooms." 
They are also having a scare-free hour on Oct. 26 for young children and anyone who doesn't want to be scared but wants to be spooked. This time period will have no performers, just technicians and the sets.
"We wanted to make sure that small children and parents of small children didn't feel like they couldn't go in," Doyle said. "So we wanted to make sure to cater to people who are 10 and under that maybe could handle a more environmental spooky experience."
Last year's haunted house brought in about 750 people in one day and they hope to bring in more people–especially with the haunted house now spanning two days. The money made through the haunted house will help lower the cost of theatre events such as Texas Thespians Festival.
Sachse School of Screams: Altered State is Oct. 25 and 26 from 6-11 p.m. The scare-free hour is Oct. 26 from 4:30-5:30 p.m. Tickets are $5.