In love with "Lover"
Taylor Swift's seventh album "Lover" was released Aug. 23 and has already become 2019's top-selling album. "Lover" also marks a new era for Swift. 
The album starts with "I Forgot That You Existed" which is presumably about Swift's feud with Kayne West. This song closes off Swift's reputation era, her previous album, and opens a clean slate for the lover era.
"Lover" shows Taylor's experimentation with different styles of music from the synth in "The Archer" to the simple drum beat and guitar in the title song "Lover."
Many songs such as "London Boy" and "Cornelia Street" are all a shout out to her boyfriend of three years, British actor Joe Alwyn. These songs peel back the curtain into Swift and Alwyn's relationship and have many fans speculating if they are engaged based on lyrics from the song, "Lover" where Swift references wedding vows.
But not all of Swift's album is about her relationship with Alwyn, Swift's song "The Man" talks about the double standard towards women in the workplace and calling out sexism. 
" 'The Man' is very empowering, and it's good to hear this perspective from Taylor because she used to be silent politically," junior Samantha Gerber said.
Perhaps the most heart-touching song on the album is "Soon You'll Get Better" a song Swift wrote about her mother's battle with cancer.  The song features the Dixie Chicks, Swift's mom's favorite band. The simple guitar with Swift's powerful lyrics along with the emotion in her voice can move you to tears.
The last song, "Daylight" has a lyric that recalls back to "Red" Swift's album from 2012, "I once believed love would be burning red/Like it's golden," calling back "loving him was red." Daylight brings Swift full-circle and ends the album on a perfect note.
"I'm in love with the Lover era," Gerber said. "I love how the songs are upbeat and personal."
This album shows a more mature and personal side of Swift, and it's filled with heart touching and upbeat songs. Swift shows that even though her first album was released more than a decade ago, she's not going anywhere.  It will be interesting to see where Swift goes from "Lover."
About the Writer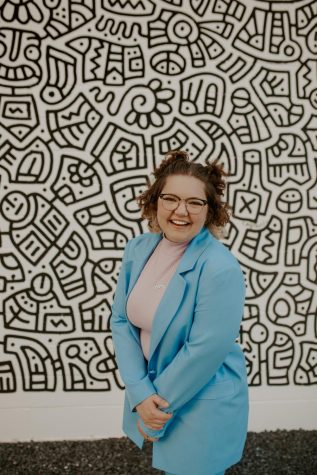 Kristin Gooding, Editor in Chief
"See how the world could be in spite of the way that it is." -Hadestown

Hey, y'all! I'm Kristin Gooding and I'm a senior. This is my third year on staff...