Robotics: A Well Oiled Machine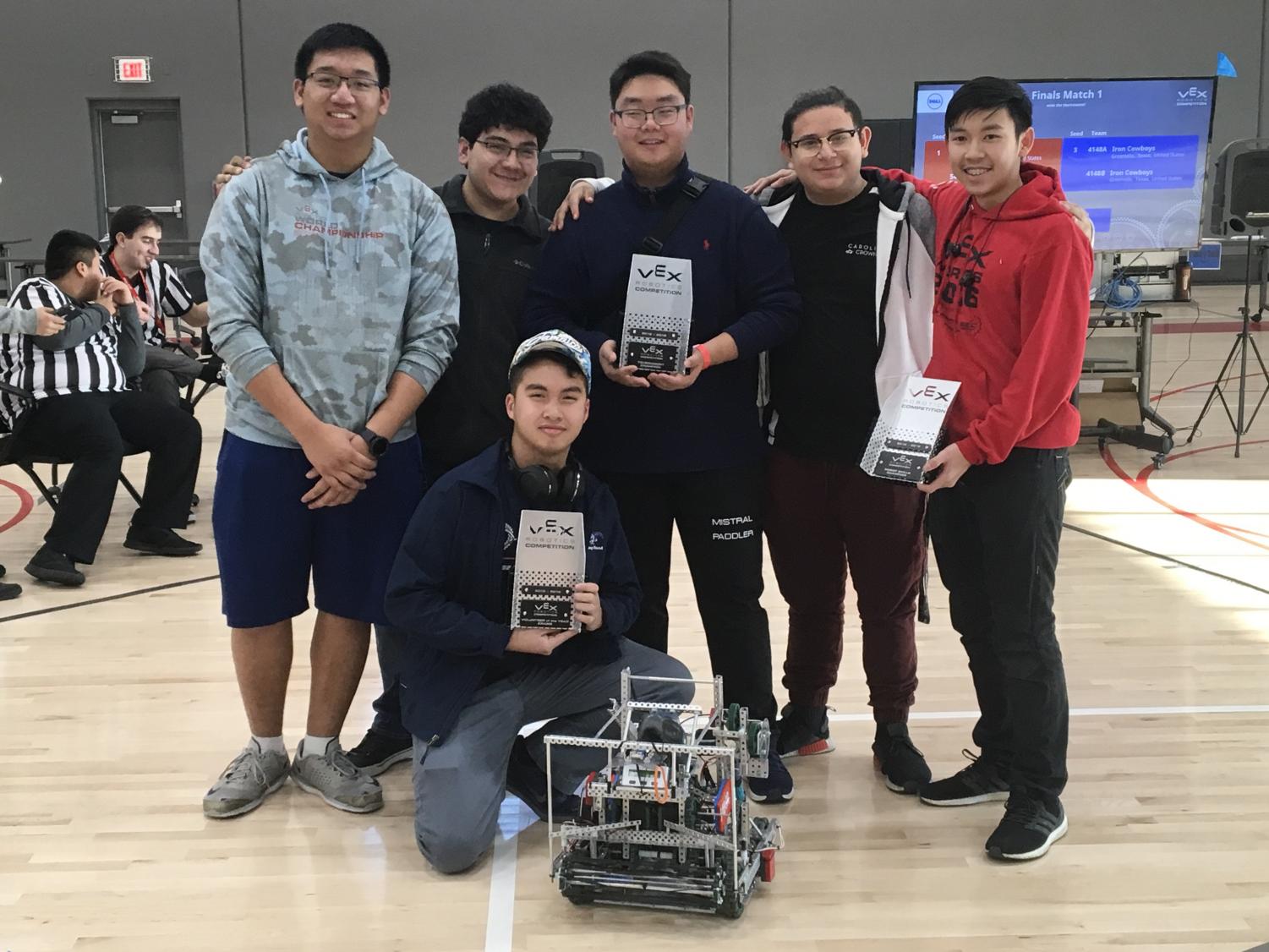 For the 4th time in the school's history, the robotic's team, "Sachse Reborn," competed in VEX World's Robotics Competition in Louisville, KY, April 24-27. The team is comprised of juniors Andrew Morkos and Diego Castro and sophomores Andy Nguyen, Thom Pham, Alan Tran, Danny Lee, and Jake Wilkins.
The best robotics teams from all over the world compete at  VEX World's Robotics Competition. More than 20,000 teams from 50 countries come to be named the best of the best. Sachse Reborn won five matches, lost five matches, and tied a match.
"It was my fourth year at worlds so I was expecting to do really well, but we switched systems in the span of a month, and we were still figuring out how to use it," team captain, Pham said. "We know more about the system now, and we're ready to go back to worlds next year and win."
The team must design, build, program and drive their own robot to do a specific task. The task changes each year. This year robots had turn 3 flags, the top two had to be turned by throwing a ball at it and the bottom flag could be physically be turned by the robot.
"There's a process that you go through to get to that finished point, and that journey is just as much fun as the end result," robotics teacher Randy Scrudder said. "These guys have truly enjoyed building this robot that they're using."
The team has competed in previous competitions such as North Texas High School Robotics State Championship and Terrell ISD VCR Tournament to qualify for worlds. Over the course of the school year, the robotics team works countless hours to perfect their robot.
"They were in my room during any given week," Scrudder said. "During the school year, they spent a lot of hours before the season began working on this robot and making it work and doing an amazing job on it."
The majority of the team has been involved with robotics since middle school.
"At worlds, three of them would come with me to go get the food while the other four would stay behind to work on their robot," Scrudder said. "We would bring the food back and those that went to get the food would start working on the robot and the ones that stayed behind would stop and eat. They were constantly working on the robot and fine-tuning it.  They were working in unison together even when they weren't working at the same time like a tag team."
Robotics benefits students because they learn the concept of programming and then they get to apply it by building and programming their own robot.
"Robotics has taught me programming and social interaction skills, but most importantly, robotics gave me another family," Pham said.