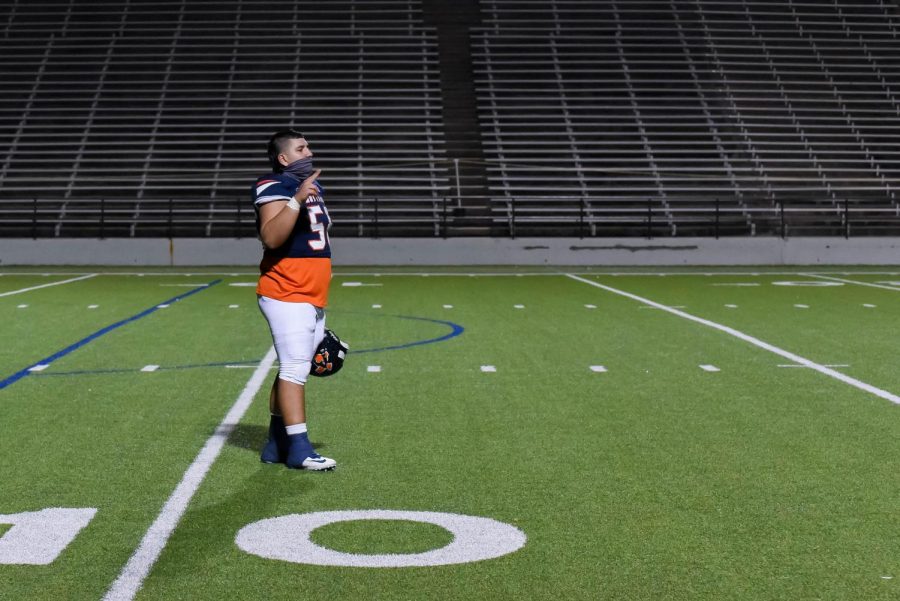 This past year has been hard for everyone, but it's been especially hard for senior athletes hoping to land their dream college on a scholarship. It has also been a challenging experience for freshman athletes who were looking forward to competing at the high school level. 
With COVID-19 restrictions, many policies about the way athletes are training and competing have changed. During football season, the bleachers remained empty apart from the band, drill team and parents watching the game. Other sports like basketball, volleyball, soccer, baseball and softball restrict attendance to two guests per player.
Freshman athletes in fall sports had little time to prepare for the season. Everything has a strict process because of all the quarantining and sanitation. Practice time was more restricted and athletes had to attempt to social distance as much as possible.
"It is more competitive than middle school," freshman football player Logan Blankenship said. "With the restrictions from COVID, it is harder to practice and weightlift."
Freshman athletes who had high expectations for playing high school sports, were sometimes disappointed.  Games that were cancelled because of teams having to quarantine were not rescheduled for sub-varsity teams.  Some high schools within the district were not able to field full freshman or JV teams because of virtual learning.
Because all students are discouraged from hanging out with other students outside of school, many of the friendships that would have been formed just did not happen.
"I wanted to get to know people more," Blankenship said. "Mainly sports because that is where the majority of my friends come from. But I didn't get to know that many people in football and outside of athletics."
For senior athletes, the playing experience was very different from previous years. The stands were virtually empty of fans because of coronavirus restrictions.
"There are two different sides to it," senior varsity football player Caden Kilpatrick said. "You used to get a lot of energy from the crowd that you don't get now. But, it is a lot easier to hear on the field, because communication is key in football."
Scholarships are often difficult to get, but this year it is even harder. Kilpatrick said often a college's roster is full by the time students reach out. 
College visitation is also a more complex process because appointments are hard to get. Taking a tour of a college campus allows students to see the outside, but they often cannot go inside buildings.
"Due to Covid, I was not allowed to go and visit my school," senior volleyball player Sydney Ross said, "but my coach was able to do a virtual tour with me."
Ross committed to play volleyball with Mississippi Valley State University.
Choice of school wasn't totally out of reach though. Many of the athletes are planning to attend   a school that was on their list.. 
"I really feel like where I'm going is a good fit for me," Kilpatrick said. "I do not know if my choice would have changed because I live close to the school, maybe for other people it would change, but for me I am not so sure."
Kilpatrick signed to play football with Southeastern Oklahoma State University.
The 2021 graduates have made the best of their final high school year in athletics. 
"This season was surely different because of COVID and us actually having to quarantine because of a positive test," Ross said. "but I would not trade it for anything. We all had the same goals and there was never a dull moment with us. We were always laughing and always with each other. It was a great way to end senior year."