Spirit groups adapt with creativity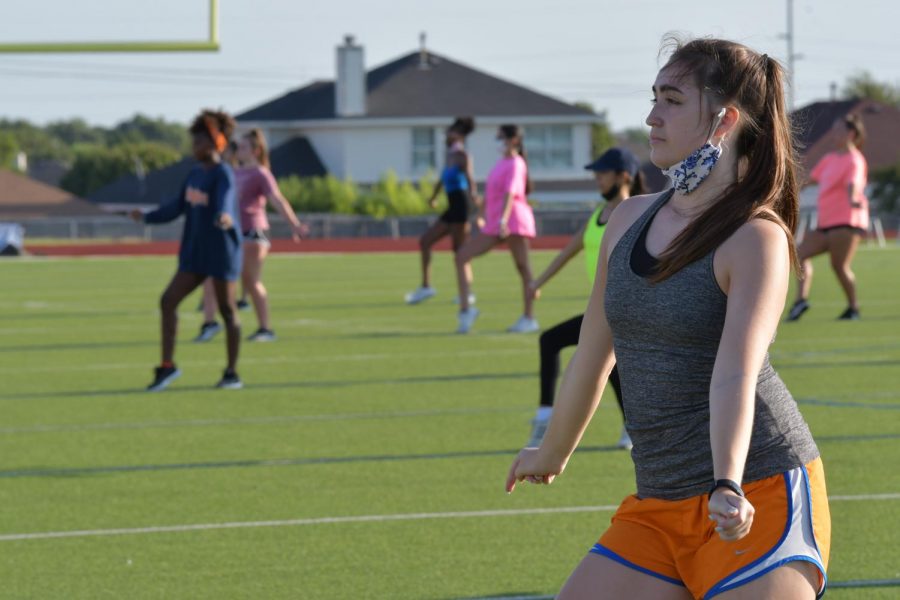 After COVID-19 ended typical tryouts, summer camps and late summer practices, Swingsters, Lariats and the cheerleading squads had to get creative.
Lariats had their summer camp online and got creative with the requirements. Aspiring Laritats were required to run around their homes finding items to form a backstory for the superheroes they had created.
Online tryouts were for anyone wanting to become an officer. They had to record themselves performing a routine and submit it. The first Lariat practices were online, and last week they started practices in person on the Sachse practice field. 
"It is a bittersweet feeling," junior Brooke Byrd said.  "You get to practice in the comfort of your home but sound delay and cameras lagging can make you confused as to whether you are behind the beat or if you are rushing the tempo."
The Lariats are changing their dances and moves as well to preserve the health of their peers.
"It is kind of weird not being able to do some of the moves we've always been doing, but I understand the intention behind the changes," Byrd said.
Drill team companies provided a virtual option to camp for the Swingsters where they practiced new routines. Google classroom played a part in Swingsters tryouts, specific moves and routines were posted in Google classroom, and the candidates practiced, then recorded themselves doing the routine. Outside judges evaluated the submissions.
"There were students that moved all the furniture out of the living room," Swingster director Diane Craig said. "People tried out in the driveway, street, field, dance studio and a church. It was amazing that the students went above and beyond to try to figure out how to do this new system that we have never done before."  
Cheer tryouts were similar where everyone recorded themselves. Freshman cheer director Kristina DeLozier said the submissions were sent to district enrolled judges to decide the final teams.
"It is to lower the stress of choosing for the directors," DeLozier said. "Also it keeps teachers from choosing people they know, allowing new people to have a chance."
Cheer practices have been going on now for a couple of weeks in the field and the exercises have changed. The cheerleaders cannot do stunts, and formations are harder due to COVID-19 restrictions. 
"We cannot practice some fundamentals of cheer like stunting, and we have to plan way more in advance to make sure everyone stays safe," varsity cheer director Rachel Sawyer said.
Masks will be worn during practice, and the cheerleaders will have to stay within nine to 10 feet of another person.
"When the cheerleaders are all 10 feet away from each other, they can remove their masks," DeLozier said. "It is just added safety for now."
It is unknown how pep rallies will work this year. There is no new information on how that is going to work, whether they are marking off every other seat in the gym or if they will be virtual.   
When football games resume, they will be played at the HBJ stadium where the Swingsters will start performing in October. The cheerleading squad is not sure of current plans for them, but DeLozier believes that they will begin cheering soon.
"The district is currently making plans for cheerleading but speculations lead to cheering at games," DeLozier said.
Attitudes have been dampened surely but the Lariats, Swingsters and cheerleaders are not going down without a fight. They continue to work hard, adapting to the new ways. 
  "I'm very impressed with my students," Craig said. "They have gone above and beyond the call of duty to learn the needed material virtually. I'm very excited about the upcoming season."
About the Writer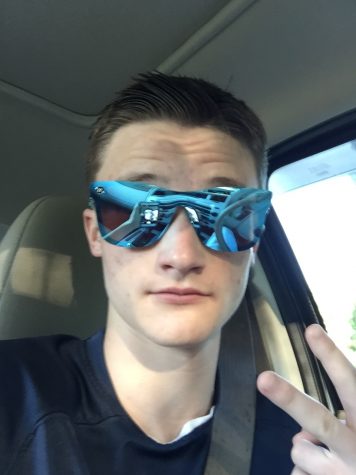 Jacob Simon, Staff Writer
I am new to the newspaper writing format. I like to write but news writing requires more skills to master. I am a junior at Sachse High School and I am...